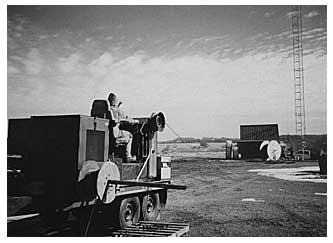 In 1992 the Watonwan Television Improvement Association (WTVIA) faced financial difficulties. Four neighboring electric co-ops monitored the situation with great interest because many of their members were served by the WTVIA. They were concerned that if the WTVIA was bought by outside parties, the channels would be scrambled and service rates would greatly increase.
To make sure that didn't happen the cooperatives presented WTVIA with a formal proposal in May 1992 to purchase the organization. WTVIA accepted the proposal in October 1992 and Cooperative Television (CTV) of southern Minnesota was born.
CTV held its first board meeting October 19, 1992. The board adopted bylaws, elected officers and signed the purchase agreement that all WTVIA assets, debts and contracts would be purchased.
Among the assets acquired by the purchase of WTVIA was the backbone that makes it possible to bring channels into your home. CTV started with a single tower at Godahl and has since added four more. Towers are now located in Jackson, Frost, Welcome and New Sweden.
First, the 300-foot tower in New Sweden picks up the television signals from the Twin Cities. The signals are sent to the Godahl Tower, which re-broadcasts with a 45-mile radius. Both the Jackson and Frost towers are 315 feet tall and have a 30-mile broadcasting range. These towers were added as part of a $1.5 million expansion project begun in 1995.
Since CTV began nearly two decades ago, another tower was acquired at Godahl to give CTV broadcasting greater height, which improves coverage. CTV also switched to digital signals in the summer of 2009. In 2021 CTV upgraded 24 transmitters to better technology. CTV now offers the best low-cost TV broadcasting available in the area and going from analog to digital doubled the number of CTV channels from eight to 40+.